Comprehensive SEO Ranking Report Tools For Marketing Agencies
Use our low-cost SEO rank tracker tools to provide your customers with white-label SEO ranking reports. No more complicated dashboard with unnecessary, confusing elements. All you need to do is show your customers how their site ranks on Google based on the relevant keywords. We will help you do just that. Our software will monitor SEO progress, aggregate SERP analysis, and track all your websites in one place.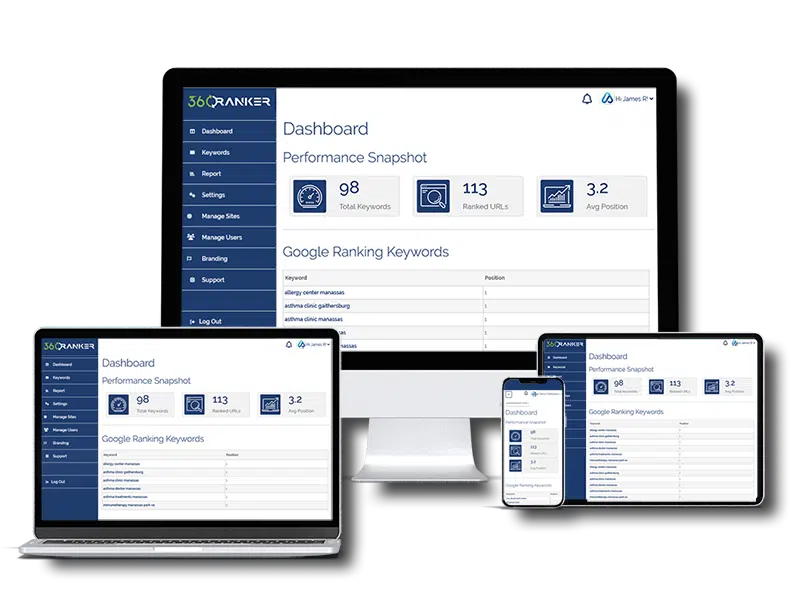 Now you can run a fully optimized SEO campaign for your client's website with the assurance of better results and improved SEO positions when you can track the keywords ranking using our intelligent data.
Why Are SEO Ranking Reports Essential?
As an SEO company, you are already doing a lot of SEO work to bring your customers' sites to the first page on Google. From keyword research, content marketing, schema markups, and on-page SEO to link building, social sharing, and all the other off-page SEO strategies… You do them all just to improve your client's website ranking and eventually get it to the first page of different search engines.
After all, if you can't provide an extensive SEO ranking report to your customers and show them the progress in their site ranking positions, they won't see the value of your work.
360 Ranker technology will crawl the sites, collect the data, analyze the metrics, and provide you with state-of-the-art report tools to show the progress and desired results to your clients.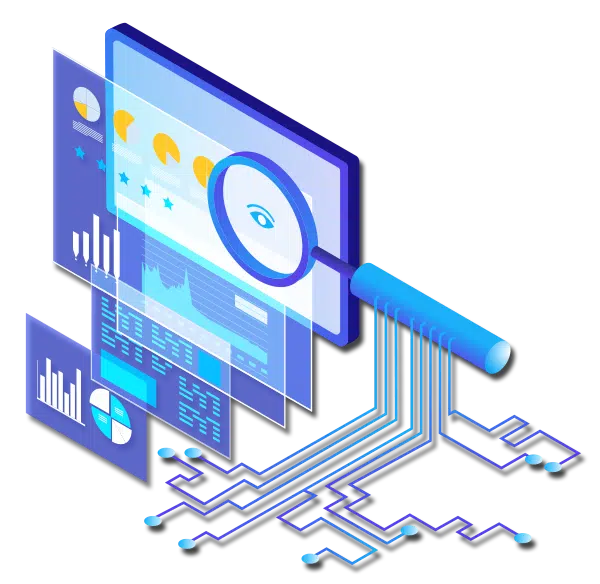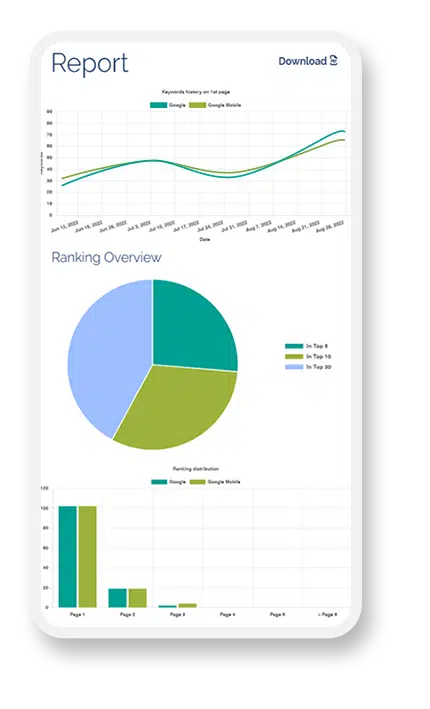 White-Label SEO Report Software
Monitor the SEO performance of your client's websites by assessing all SEO metrics for pages and keywords, then schedule white-label PDF SEO reports to be emailed to them weekly or monthly. They get transparent monitoring of every keyword you use to rank their website on search engines. It's time to upscale SEO campaigns with 360 Ranker's reports.
The report won't show any trace of us; it will be customized and branded to your business information.
White-Label SEO Dashboard for Your Clients
With our white-label software, you can customize our software and make it your branded dashboard. Use your own domain name, color theme, logo, and contact information.
360 Ranker's easy-to-use dashboard comprises all the features that generate Search Engine Optimization reports: it monitors the website's SEO performance, tracks the site's SEO position, and explores the best-performing keywords specific to that website's niche.
Add your clients to their SEO report dashboard. Give them their login and let them check their website ranking on Google anytime, on demand. They can easily track the progress and view the report online.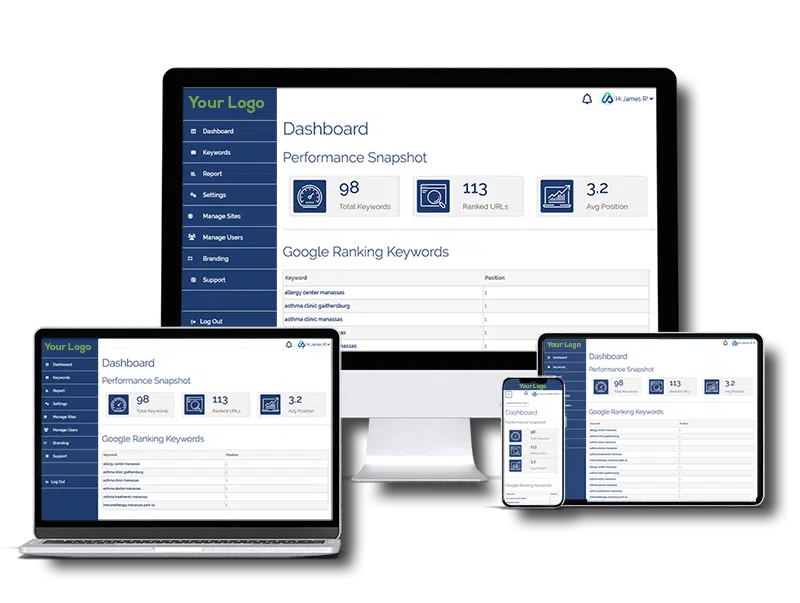 Better SEO Decision-Making
SEO is all about ranking your website in accordance with the best-performing keywords. With 360 Ranker, you can track your search engine ranking to improve your SEO campaign. You can try out different SEO keywords and track their real-time results.
Wait no more and start your free trial today. There are no hidden charges. You can upgrade, downgrade, or cancel your package anytime. Choose your plan now!
What our clients are saying about us!
We use 360 Ranker because it offers exactly what we need. It has a very low pricing structure which works well for our SEO Company. Our customers easily underused the SEO report because it shows all they need to see and not all unnecessary stuff that would confuse them.
We switched to 360 Ranker because of its easy-to-use interface and price point. We are an SEO company and need to show the SEO progress to our customers. The 360 Ranker's tools are simple and powerful, especially for our new, less experienced team members. Our clients can log in and check their site ranking in the white-label dashboard. 360 Ranker is the best SEO report product online.
As an SEO agency, we use 360 Ranker to track the keyword rankings of our client's websites. The software checks our client's website ranking positions on Google, allowing our customers to see the results of our SEO work and keep them updated with rank changes. I believe this is a great application that we use to send scheduled SEO reports to our clients. 360 Ranker is one of the best values for money in the market.